Auschwitz more popular than ever as a tourist destination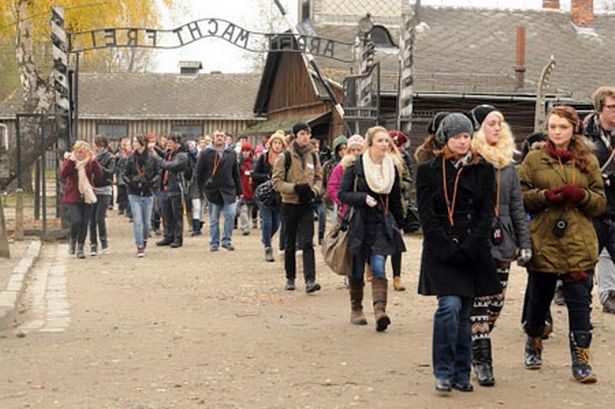 A record number of visitors walked under the notorious "Arbeit Macht Frei" gate in 2016, strolled among the tidy red brick buildings and got their two-minute walk-by of the Soviet-reconstructed crematorium and alleged "gas chamber."
The over two million visitors were mainly from European countries, with Poland supplying by far the greatest number. The growing numbers may be due to an increasing amount of school trips being mandated by government fiat.
Of 2,053,000 visitors recorded, almost 500,000 (424,000 to be exact) of them were Polish residents. The other numbers given are as follows:
United Kingdom – 271,000
United States – 215, 000
Italy – 146,000
Spain – 115,000
Israel – 97,000
Germany – 92,000
France – 82,000
Czech Republic – 60,000
Sweden – 41,000
How many of these are Jews? Probably a high number, as we see almost a hundred thousand came from tiny Israel alone. Organized school trips of students from age 12 to 18 would certainly make up a large percentage. According to the museum, there were 61,000 organized tour groups, while some 150 movie crews produced documentaries at the museum last year.
But museum officials are complaining that terminology associated with Auschwitz is being used for non-related protests. They give the example of a Polish organization fighting for fathers' rights that recently, on it's website, posted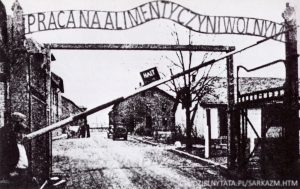 a photo (at right) of the "Work makes you free" (Arbeit Macht Frei) sign at the entrance to Auschwitz changed to "Work on alimony makes you free," implying that Dads who have to pay alimony when they don't have custody rights are being treated like forced laborers in Auschwitz, thus minimizing the manufactured horror of the place. The museum calls such use "sad, inappropriate, and painful."

Well, they need to get used to it because it's only going to get worse. It is they who have destroyed the solemnity of visiting Auschwitz with their many fabrications, exaggerations and cover-ups over the years. The phony "gas chamber" already mentioned is one example of this, along with the swimming pool that inmates did use, but which the museum officials always denied and are now calling a water reservoir for the fire department! There are many more examples of fraud going on at the museum – see here.

The holocaust's most famous camp is increasingly being understood to be an inauthentic version of what the camp actually was – not a death camp by any stretch of the imagination.